Marvelously Magnificent French Macarons are Made for Weddings
August 10, 2019
You've probably heard of Macaroons (MACK-A-RUNES) and you've most likely seen stacks of beautiful Macarons (MACK-AH-ROHNS) in your Insta Feed, but did know these popular cookies are nothing alike? Besides being spelled pretty much the same and both tasting scrumptious, macarons and macaroons are actually very different cookies. First off, macaroons are coconut-based, whereas macarons are meringue-based. Macaroons are extremely sweet while macarons have a just a tiny hint of sweetness. So although we have nothing but love for the lumpy, dense and yummy macaroons, today we are going to delve into the delicate loveliness of french macarons.

Marvelously magnificent French Macarons are the perfect cookies for weddings. They are light sandwich cookies consisting of two rounded disks made from a batter of egg whites, sugar and almond flour surrounding a sweet filling of either jam, ganache or buttercream. They are dainty, not overly sweet and can be made in an endless variety of colors and flavors.
Macarons can be any shade of the rainbow AND they can be further decorated with artistic designs and toppings.
Macarons are beautiful to look at, they photograph well plus they are tidy to eat as they are not too crumbly. Macarons make nice wedding cake alternatives. A couple of options below feature tiers of the cookies on their sides as well as a wedding cake topiary with macarons:
We adore this whimsical tower of pale pink cookies decorated with lush florals and greenery:
And this luscious version with extravagant blooms and a sophisticated color palette is just gorgeous:
Macarons make delightful favors for your wedding guests. There are many specialty bakers like 
La Reine des Macarons
 who specialize in creating unique favors like these:
The Vintage Kitchen
 creates amazing 
gourmet French macarons
. All of their cookies are made fresh in Arkansas and they are happy to personalize them just for you by incorporating your wedding colors, the flavor of your wedding cake, or even by hand-painting your initials onto each macaron!
Another adorable favor option (which will last much longer than a cookie) are these precious Macaron Limoge Trinket Boxes by Two's Company:
Or if you want to serve Macarons as a dessert option for your guests you could do something along the lines of this lavish selection of flavors and colors. A large selection is key since everyone will be unable to resist tasting multiple flavors: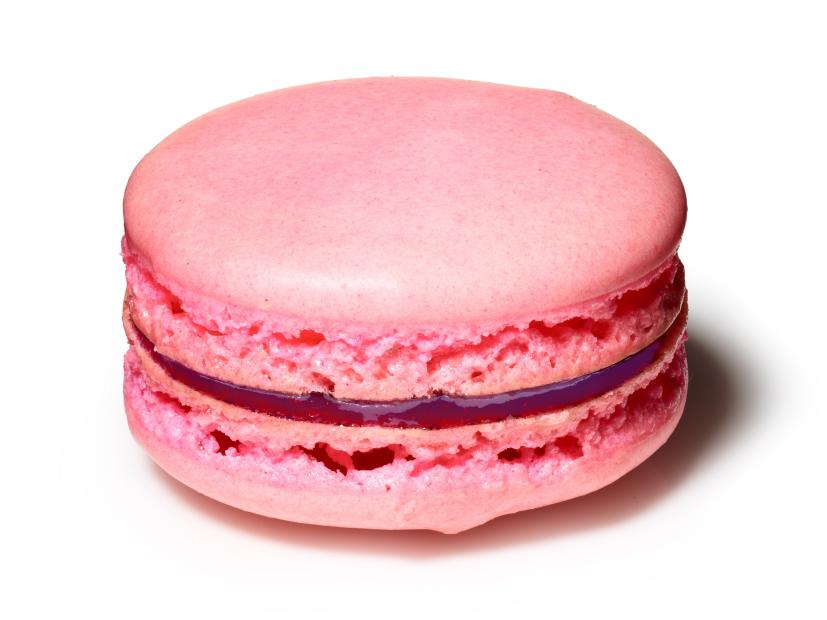 Food Network has an intricate macaron recipe with lots of different flavor profiles for all you DIYers with mad cooking skills:
1 3/4 cups confectioners' sugar
1 cup almond flour
3 large egg whites, at room temperature
1/4 teaspoon cream of tartar
Pinch of salt
1/4 cup superfine sugar
2 to 3 drops gel food coloring (see below)
1/2 teaspoon vanilla, almond or mint extract
Assorted fillings (see below)
Special equipment you may need:
Oven with convection setting, 4 baking sheets, 3 silicone baking mats, Fine-mesh sieve, Pastry bag with a 1/4-inch round tip
Preheat the oven to 300 degrees F using the convection setting. Line 3 baking sheets with silicone mats. Measure the confectioners' sugar and almond flour by spooning them into measuring cups and leveling with a knife. Transfer to a bowl; whisk to combine.
Sift the sugar-almond flour mixture, a little at a time, through a fine-mesh sieve into a large bowl, pressing with a rubber spatula to pass through as much as possible. It will take a while, and up to 2 tablespoons of coarse almond flour may be left; just toss it.
Beat the egg whites, cream of tartar and salt with a mixer on medium speed until frothy. Increase the speed to medium-high; gradually add the superfine sugar and beat until stiff and shiny, about 5 more minutes.
Transfer the beaten egg whites to the bowl with the almond flour mixture. Draw a rubber spatula halfway through the mixture and fold until incorporated, giving the bowl a quarter turn with each fold.
Add the food coloring and extract (see below). Continue folding and turning, scraping down the bowl, until the batter is smooth and falls off the spatula in a thin flat ribbon, 2 to 3 minutes.
Transfer the batter to a pastry bag fitted with a 1/4-inch round tip. Holding the bag vertically and close to the baking sheet, pipe 1 1/4-inch circles (24 per sheet). Firmly tap the baking sheets twice against the counter to release any air bubbles.
Let the cookies sit at room temperature until the tops are no longer sticky to the touch, 15 minutes to 1 hour, depending on the humidity. Slip another baking sheet under the first batch (a double baking sheet protects the cookies from the heat).
Bake the first batch until the cookies are shiny and rise 1/8 inch to form a "foot," about 20 minutes. Transfer to a rack to cool completely. Repeat, using a double sheet for each batch. Peel the cookies off the mats and sandwich with a thin layer of filling (see below).
FLAVOR VARIATIONS
Almond-Raspberry:
Tint the batter with 2 drops neon pink gel food coloring; flavor with almond extract. Fill with seedless raspberry jam (you'll need about 3/4 cup).
Mint-White Chocolate:
Tint the batter with 2 drops mint green gel food coloring; flavor with mint extract. For the filling, microwave 3 ounces chopped white chocolate, 2 tablespoons heavy cream and 1 tablespoon butter in 30-second intervals, stirring, until smooth. Stir in 1/4 teaspoon mint extract and 1 drop mint green gel food coloring.
Blueberry Cheesecake:
Tint the batter with 3 drops royal blue gel food coloring; flavor with vanilla extract. For the filling, mix 4 ounces softened cream cheese and 3 tablespoons blueberry jam.
Lavender-Honey:
Tint the batter with 2 drops violet gel food coloring; flavor with almond or vanilla extract. For the filling, mix 3/4 cup mascarpone cheese, 2 tablespoons honey and 1 teaspoon ground dried lavender.
Pineapple:
Tint the batter with 2 drops lemon yellow gel food coloring; flavor with vanilla extract. For the filling, press 3/4 cup pineapple jam through a sieve, discarding any large pieces.